Manaslu Circuit Trekking - 16 Nights 17 days
Duration: 16 Nights 17 days
Transport: Bus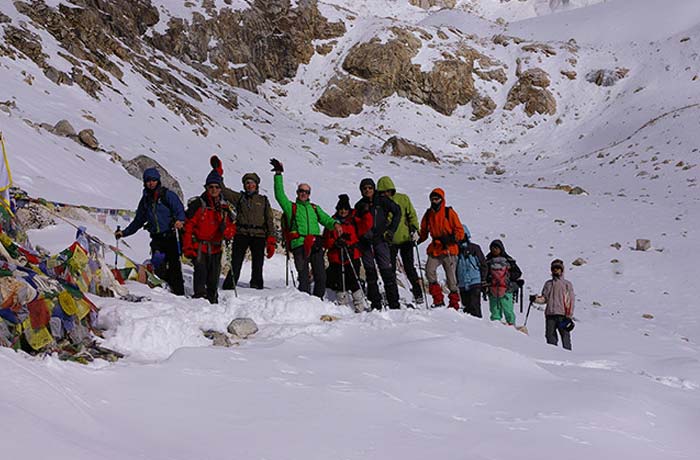 Trip Overview
Manaslu circuit trekking is a wonderland for people who love hike and the Manaslu circuit trekking is one of the wonderful circuit trails in Nepal. Manasalu (8,163m} is the 8th highest mountain in the world so the experience around this trail is adventurous. This route is still wild and having fewer tea houses and lodges because before there were few hotels it was trekking for Camping, but nowadays it has been 3 years that different hotels are established for good accommodation. Manaslu circuit trekking is still, you may enjoy camping accommodation because people in this area are new for trekking profession. So still service is not as good as another trial. During the around Manaslu circuit trekking most panoramic views of Manaslu Himal, Boudha Himal, Sarangi Himal, Ganesh Himal, and many other peaks are visible. Manaslu circuit trekking is northern borderland consisting beautiful landscape of Tsum valley. Manaslu Trekking Seems easy but you need previous experience before doing It. Because Manasalu Trekking Area has Kind of weather that we cannot predict But due to an experience of this area. Yes, 2013 October was Problem Mountain region because of very bad weather. All Trekking group has forced to return back to Samagaun -Arughat, but that time we are the 1st Group to Larke pass because of our experience. The trekking of Manasalu itself is the trekking which will be fulfilled your desire to involve in the different culture and with nature. Especially Manaslu circuit trekking areas Gurung Community dominates the habitation of this regions so, it is easy for us as Gurung to Communicate with Local people. It is the kind of Trekking which can be managed in any way during the time period of the holiday. But Manaslu circuit trekking minimum time to conduct this Trekking is for 13 days. We provided the necessary stuff below as our itinerary. We provide the best services of permits, transports, staffing, lodge, and accommodation with our excellent and experienced map reading and Compass using  Guide Porters.
Detailed Itinerary
1

Day 1 : Kathmandu arrival (1,300m).

Arrival Kathmandu airport and transfer to the hotel.

2

Day 2 : Kathmandu.

Your Free day at Kathmandu hotel includes with bed and breakfast. We need your original passport including Nepali Visa to prepare for the Restricted Special Trekking permit, After preparing your permit Nepal Alsace trek will brief for your Trekking details. Your Free day at Kathmandu hotel includes with bed and breakfast.

3

Day 3 : Kathmandu Sutikhola (730m) via Arughat Bazar.

As our 1st day, we take the bus from Kathmandu to SutiKho 6 hours drive. we Follow Prithivi High Way And take a Small route to Go Dhading have the panoramic view from Bus of Mt Manaslu, Ganesh Himal, and many more. Stay overnight at the lodge.

4

Day 4 : Sutikhola-Machhekhola (900m) Machhe Khola) 6 hours walking.

From the 2nd day, we are free to hike Because Today also we Follow Motorway but without Motor so easy for us to hike. From today we'll get closer with the Actual trekking Trial and the become Steps. And way to easy day hiking. From SutiKhol to Machhe Khola. Stay overnight at lodge.

5

Day 5 : MachheKhola-Jagat (1,300m Jagat) 6 hours walking.

From Machhe Khola to Jagat is the way between Fascinating jungle and villages. We follow the Rocky Bank of River. As our trekking get closer to the trial the magnificent views, Village started to get closer. The Dovan (1,070)which is our lunch place. After lunch, we climb above an impressive series of steep rapids. Here the Trial climbs High. After crossing bridge, we climb steeply rocky path we'll reach our camp below us called "Jagat" where is the actual cheek point for our permit. And the Jagat means the place where tax collected. Stay vernight at the lodge.

6

Day 6 : Jagat-Pewa (1,840m Pewa) 6 hour walking. Especial Permit start from here.

From Jagat, it is the Longest day of hiking for us. After descending a long series of stone steps back down to Riverside. we climb on wonderful stone steps along a terraced hillside to the small hamlet of sidebars (1,420)from where we can have panoramic view of Mt Sringi (7,161) After Lunch we Follow high land way to Pewa on the way to Pewa, We'll meet another way For Tsum valley which way more popular than Manasalu. Stay overnight at the lodge.

7

Day 7 : Pewa-Namrung (2,630m Namrung) 6/7 hours walking.

After breakfast, we 'll reach to Deng small and beautiful village. Deng is started a period of Lower Nubri Region of Kutang. Where people are ethnically Tibetan but speak the different dialect that people of upper Nubri who are the pure Tibetan. We can have views Lumbo Himal as well as Capuchin, and Dwijen Himals. After Lunch and Make around the Beautiful school then we'll reach our destination 'Namrung" beautiful village. Stay overnight at the lodge.

8

Day 8 : Namrung-Samagaun (3,390m)Samagaun) 6/7 hours walking.

Now as our trekking start early morning we pass the trough different mani and we start to enter the lupine territory and will increase broadly. Namrung is the start of Nubri the region of the pure Tebitain inhabitant. After Hour of the walk, we reach to Lihi (2840) magnificent Lihi houses and Gumbas. will brings excitement Tibetan Lamas student Study in Gomba school. Takes one hour and the We are now at Samagaun. Stay overnight at the lodge.

9

Day 9 : Rest day and after lunch visit to valley.

At our Rest day, we'll hike to oldest Gumba is this region the Brenda tall and the Rest day will be Full of Satisfaction day. Stay overnight at the lodge.

10

Day 10 : Samagaun-Samdo (3,690m) Samdo) 4 hours walking,

After our breakfast, we move out from Samagaun. We pass via long main walls and Chorten at kermoKharka. Later, we move downwards to the Budi Gandaki and hike around old herding communal of Samdo Residents. Stay overnight at the lodge.

11

Day 11 : Samdo-Dharmasala (4,460m) Dharmasala 4 hours walking.

Fram Samdo, We depart today, as our path leat us to the older trade way to Tibet. We pass via Bridges and make our way to the Larkya Bazaar. After a tiring walk, we will be passing through glaciers with more stunning views and landscapes. At the end of the day, we reach on the Dharmasala. Stay overnight at the lodge.

12

Day 12 : Dharmasala-Bhimtang (5,160m Larke) 6/7 hours walking Bhimtang(3,800m) Especial Permit end from here

Today we take our Breakfast at early Morning and packed our pack Lunch for the pass because until we cross pass and reach to destination there are no hotels and human assimilate so it better to carry pack Lunch which we'll have after crossing top of Larkye la. Because to get to the top of Larkya is not difficult but after crossing it is quite difficult as we have to go down for Bhimthang. Stay overnight at the lodge.

13

Day 13 : Bhimtang-Telje (3,900m) Tillje 5 hours walking from Bhimtang.

Today we hike cool trial through the forest following Dudh Khola (river) and start to see the beautiful view of the Manasalu Mountain Range and reach Karcher where we will have our lunch and from here we need to walk 2 hours 20 minute more to reach Tilje. Today the hike will be very hot Because we descend at least (1,300m) down from Bhimthang to our destination called "Tilje is the small and beautiful village of Gurung community. Stay overnight at the lodge.

14

Day 14 : Tilje- Besishar.(760m).

Early morning we will take our breakfast and start hike by crossing river by suspension bridge and follow road trial broadway for about 50 Minute to reach Dharapani Gateway for Annapurna circuit trekking, where we have to do check out of our Manasalu trekking then we will hair Jeeb to Besishar almost about 3 hours to Besishar the main business center of region. Stay overnight at the lodge.

15

Day 15 : Besishar-Kathmandu.

From Besishar 5 hours drive the bus to the Kathmandu and transfer to the hotel.

16

Day 16 : Kathmandu.

Your free day at Kathmandu hotel include with bed and brekfast.

17

Day 17 : Departure.

After breakfast drive to the international airport for your scheduled flight back to home.
Cost Includes
Arrival and departure transport Car/Van/ Hiace.
Hotel in Kathmandu with bed breakfast 4 Nights.
Breakfast, Lunch. Dinner Such as: Nepali, Indian,Chinese, Italian and many more European food three time a day you can Chose by (Menu} Coffee or Tea 5 Cup per day.
Lodge accommodation during trek.
License holder Trekking guide and required number of porters.
Special Trekking permits, for Manaslu and park fee for Manaslu and Annapurna.
Bus Transport Kathmandu.Sutikhola,Dharapani-Beshishar Jeep and Besishar -Kathmandu bus.
Cost Excludes
Lunch and Dinner in Kathmandu.
Your travel insurance Policy encases if the accident and high Altitude sickness Rescue.
Nepal entry visa fee 15 Days 25 US$ and for the 30 Days 40 US$, you can obtain your visa in Kathmandu airport if you have not taken from your country.
Will require 2 passport size photos.
Soft and hard drinks Such as Beer, Coke, Fanta and Mineral waters.
Personal Trekking Equipment.
Tips for Trekking staffs.
Reviews
Michel Bessaitt
France
" Michel Bessait, membre du Club Alpin Français ainsi que 8 de...
Read More
Notes : Payment should be made 35 % of total amount in advance. Full amount must be paid before strat your trip. Cancellation should be made 48 hours before departure and 25% cancellation charge is applicable beside Tax, transportation, permits and others fixed expensive. In case of incomplete Trekking / Tour / Rafting / Climbing / Jungles safari / or others days due to the client own problem the amount of money paid not refundable. If clients want to do Trekking / Tour / Rafting / Climbing / Jungles safari / or others tours more than itinerary, they can pay after back from tour with per day basic but should be permission with our Guide.