Mera Island peak climbing via Amphu Lapcha la pass - 24 Nights 25 Days
Duration: 24 Nights 25 Days
Trekking Route: Lukla/Khare Mera high camp Amphu lapcha pass Island peak Namche Lukla
Best Time: Sep to Nov and April and May
Transport: Plane
Minimum Pax: 2
Places Cover: Kathmandu - Luklar - Kothe - Khare - Mera Peak climbing - Ama Laptsa pass - Island Peak climbing - Chhukung - Namche - Lukla Kathmandu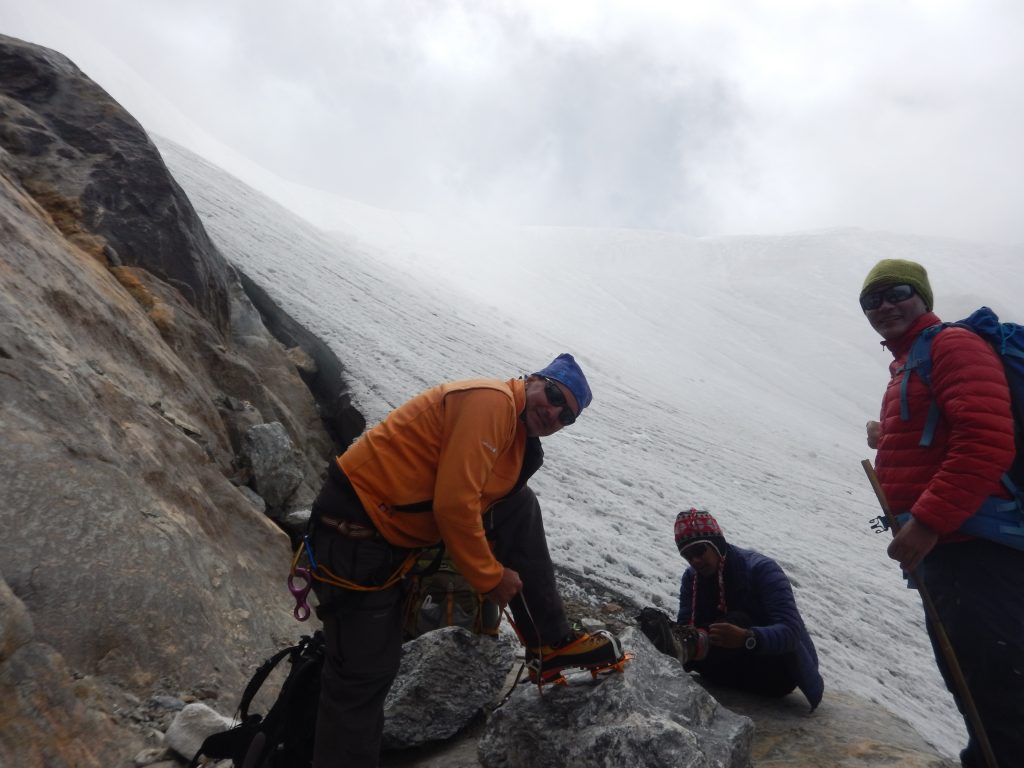 Mara island peak climbing via Amphu Lapcha la pass 5845m trek is the one of lifetime beautiful truly is a memorable experience doing trekking in Nepal climbing Peak in at the same time. Mera peak 6461m  island peak 6189m via Amphu Lapcha starts from subtropical to a higher altitude over 6000m.
Mera and island peak is quite near but divided by huge mountain range, Remote Hingkhu valley in one side and Imja valley at another part. The magnificent scenery and final, exposed summit at the top makes perhaps the finest snow route in the Himalaya. it is regarded as a small technical peak with some ascend walk, crossing ladder in crevasse everything that a technical mountain offer in lower altitude though there are difficulty an intermediate climber and some high altitude experienced person and the love for the mountain is all you need to overcome this adventurous journey. Ancient Sherpa village steeped in Rich, historical mountaineering tradition along with physical difficulty makes this peak climbing trek one of most do a task of Adventure in Khumbu Nepal.
Mera Island peak via Amphu Lapcha la is one of most challenging trekking destination in Khumbu region where adventure seekers can enjoy both trekking and expedition at the same time which is once in a lifetime opportunity.
Trip Overview
Mara island peak climbing we will fly to Lukla and hike for Chuthanga following route to Mera peak via Panggong and go across col Khari la en route we will also pass all the way through rock-strewn the perfect walk through meadows and woodland covered by blue Himalayan pine and rhododendron flowers to reach Kothe, we will follow side glacier moraine and arrive Mera base Camp via Khare from where we will Acclimatize and give some Important instruction for our guest before heading for 6461m Mera peak for summit day we start early morning. We approach the Mera peak by northern route because it involves gradual climb with outstanding mountain view. after we reach the summit we can have a postcard view of Chamlang(7290m), Baruntse(7220m), Mt.Everest(8848m), Lhotse(8516m) and many more mountain ranges play a vital role to minimize our fatigue level. Then after Mera summit, We head eastward exploring less famous route used for Makalu and the wilderness of the upper Hongu Valley. Furthermore, we camp to Seto Pokhari, A scared lake system at over 5000m nestling beneath stunning Everest, Lhotse and many more peaks. We gradually reach Amphu Lapcha pass a 40-degree vertical pass difficult but the fun and excitement it offers throughout are the one of adventurous feeling one can ever have. Amphu Lapcha pass summit is yet another vantage point to take in a magnificent view of majestic  Mt Everest, Mt.Lhotse, Mt.Baruntse, Mt Kusum Kanguru and many more mountains. After we cross Amphu Lapcha pass (5780m) and reach island peak base camp where we take a day rest for exploring and rest before ascent for Island peak 6189m.
Island Peak Base Camp is located at an altitude of about 5100m near the Imja and Lhotse Glaciers. At the base camp, you will be able to enjoy the island peak. The Island peak climbing begins with a scramble up a rocky gully to the ridge where you need to get on. Crampons and rope up to the Glacier crossing heading to the south Ridge scintillating Island Peak summit, the view it offers are just amazing! No one can express it the feeling only a summiteer can feel.
Finally, we start to descend down to Lukla via isolated Tengboche monastery. The Tibetian Buddhist temple site at 12865 feet which offers us a glimpse into the monastic life of Khumbu.W e descend down following Dudh Koshi river and probably some ascend until Namche bazaar main route to Everest Base Camp so, the trial will be crowded and huge number of traffic of people because it is one and only way to Everest Base Camp, three pass trekking, Gokyo and enjoy trek. Again we descend following EBC trial to Lukla from where we will fly back to Kathmandu by plane.
IMPORTANT: We offer scheduled –and custom guided climbs on a route of a verity of difficulty. Novice mountaineer will benefit from our introductory course, designed to take the next step into Mera peak, such as the island peak, a challenging and difficult ascent up the crevasse, yet a route that is assessable to the climber with competency in basic mountaineering skills.
Note: It is a mountain and quite difficult but you don't need rippling muscle and advance mountaineering training but the experience of high altitude and the Wright instruction, knowledge share by experienced climber leader is what you need to succeed this climbing and I assure you we are the perfect choice for 100% result. And we can modify itinerary on the way regarding your health so let our opportunity to serve you. We highly recommend for this those peak climbing and Amphu Lapcha pass the best time is from September and October and spring only April to until 15 of May. You can do this climbing itinerary 17 days to 22 to days. If you are interested in this project especially we offer you the best cost and best service on your holiday trip to Khumbu Nepal.
Our Friend Mr. Jean Christophe Richard successfully climbed both peak 2018 October who was coming from Arthaz France locweb If you need to ask more information in France than Mr, Richard will reply you about the history of Mer pass Amphu Lapcha Island peak climbing.
Mera Island peak Amphu Lapcha pass, we listed in our site 2900 US$ per person minimum 2 people for Mera and island peak climbing cost, in this price we included Breakfast, Lunch, Dinner, Mera, and Island Climbing permit, Climbing guide, and potter's Kathmandu-Lukla-Kathmandu plane tickets during the trek and we do include the hotel in Kathmandu with breakfast as per our itinerary.
One Single person then cost  350 US$ Extra.
Sorry: we don't include in our price list, Nepal visa fee, personal equipment, Lunch, dinner in Kathmandu, your international air ticket and travels insurance.
If you want to hire the only guide and porter also available from our agency.
1

Day 1 : Arrival in Kathmandu (1,300m).

Arrival Kathmandu airport and transfer to the hotel.

2

Day 2 : Free day at Kathmandu.

Free day at Kathmandu hotel include with bed and breakfast.

3

Day 3 : 45 minute fly Kathmandu-Lukla and trek to Chuthanga (3,020m).

Morning flight to Lukla (2800m) The gateway of the Khumbu valley and our trek to Chhu Thanga. Stay overnight at lodge.

4

Day 4 : Chhuthang -Tuli Kharka (4,100m).

From Chutang 6 hours walking to Thuli Kharka. Stay overnight at lodge.

5

Day 5 : Tuli Kharka-Kothe (4,182m).

From Tuli Kharka -6 hours walking to Kothe. Stay overnight at lodge.

6

Day 6 : Kothe – Thangnak (4,326m).

From Kothe 6 hours walking to Thangak. Stay overnight at lodge.

7

Day 7 : Thangnak – Khare (5,000m).

From Thangnak 6 hours walking to Khare. Stay overnight at lodge.

8

Day 8 : Rest day at Khare.

Acclimatization is very essential in higher altitudes to avoid mental and physical sickness. As we are above (5,000) meters altitude, we will spend a rest day at Khare for acclimatization and exploration. Proper acclimatization is a must for ensuring our successful summit climb of Mera Peak. Our Sherpa team will make necessary checks on our climbing gears including ropes, ice axes, crampons, harness, and other equipment before heading further to higher camps. Stay overnight at lodge.

9

Day 9 : Khare- Mera Base camp (5,300m) 4 hours walking.

Khare we start our short but technically demanding trek towards Mera Peak Base Camp. Our trail is a gradual ascend over to Mera Glacier. We will climb steeply towards the top of the glacier before traversing along the glacier to finally arrive at Mera Peak Base Camp. Once at the base camp our Sherpa crew will quickly set up the camp overnight in the tent.

10

Day 10 : Base camp- Mera high camp (5,700m).

From the base camp, we will follow the trail that climbs over through Mera La Pass and continues trekking along the rocky and often snow-covered trail towards Mera Peak High Camp. Once at the high camp our Sherpa crew will quickly set up the camps and make necessary checks on our health conditions and climbing gears. From the high camp, we can enjoy amazing views of Everest, Makalu, Nuptse, Cho Oyu, Baruntse and Chamlang about 3 hours walking overnight in the tent.

11

Day 11 : Summit Mera Peak (6,461m).

Today is the day we all have been desperately waiting for. Properly equipped and fully acclimatized we start early with the aim to reach the summit before noon. Strong winds after midday can create obstacles to reaching the summit. We start around 2 in the morning and after having breakfast we climb up the glacier and onto a ridge. Following the footsteps and guidance of our experienced climbing expert, we head towards Mera Peak summit. Once at the top we are rewarded with magnificent views of five spectacular (8,000meter) peaks – Everest (8,848m), Cho Oyu (8,201m)Makalu (8,463,m) Kanchenjunga (8,586,m) as well as Nuptse (7,855,m) and Chamlang (7,319,m). After spending quality time at the Mera Peak summit we will descend following the same route and head back to reach Kongma Dingma (4850m) about 9 hours walking overnight in the tent.

12

Day 12 : Kongma Dingma -Seto Pokhari (4,825m) via Honku Valley.

From Kongma Dingma we will follow the trail that leads higher into yak pasture grounds of the beautiful and remote valley. Our trail heads directly into the epicenter of world's towering Mountains. Our trek along with magnificent views of surrounding Mountains and high alpine valleys. Our trek continues until we arrive at Seto Pokhari about 6 hours walking overnight in the tent.

13

Day 13 : Seto pokhari Amphu Lapcha South Base Camp (5,650m).

From Seto Pokhari, we continue our trekking passing through one of the most remote parts of the Himalayas.Our trail is a gradual ascend journey over the Honku valley which offers true mountain wilderness. We will continue to trek along the beautiful Honku valley and in short time we will arrive at Amphu Lapcha South Base Camp (5,650m) 5/6 hours walking overnight in the tent.

14

Day 14 : Amphu Lapch la pass (5,845m) pass and trek to Chhukung.

Today we start early for the crossing of the technically difficult and challenging alpine pass – Amphu Lapcha La Pass at (5.845) meters. The pass is often covered with snow and ice, so moving one step at a time – we head towards the top of the pass. Once at the top of the pass we are rewarded with magnificent views of surrounding high mountains. From the top, we will descend vigorously to reach Amphu Lapcha North Base Camp (5,300m) at the seems day to hading to Chhukung 7/8 hours walking. Stay overnight at lodge.

15

Day 15 : Rest day at Chhukung.

Today we are resting at Chhukung. Already 6/7 days we haven't any shower and also we are very tired from Mera Peak climbing and the Challenges pass Amalapsa. Therefore it is very important and best for acclimatize for Island peak. Stay overnight at lodge.

16

Day 16 : Chhukung to Island Peak base camp (5,087m)

Today we will have magnificent views of Ama Dablam, Lhotse, Nuptse, Island Peak, and other surrounding high peaks. Our trek continues until we arrive at Island Peak Base Camp. We will have the views of Island Peak's south ridge beneath the giant wall of Nuptse and Lhotse (5,087m), about 6 hours walking overnight in the tent.

17

Day 17 : Day 16 : Acclimatization And Exploration

By now we are above (5,000) meters from the sea level. So to avoid any kind of mental and physical illness we will take a rest here at the base camp before making the summit climb attempt of Island Peak. Our Sherpa will check our health conditions to make sure that everyone is fit for the main summit climb, the following day. They will also make necessary checks on climbing gears such as crampons, ice axes, harness and other equipment. Overnight in the tent.

18

Day 18 : Island Peak Summit day (6,189m).

Today is we climb Island Peak and achieve its summit. Fully equipped and properly acclimatized we start early with the aim to reach the summit before noon. The strong winds, especially after midday, can really create obstacles to reaching the summit. Following the guidance and instructions are given by our Experienced Sherpa climbers, we will tackle several technical sections and head towards the summit. Once at the top we are rewarded with breathtaking views of Mt Lhotse. Mt Makalu, Lhotse Middle Peaks, Lhotse Shar, Mt Nuptse, Mt Baruntse and other surrounding peaks. We will spend short and quality time at the top of Island Peak and then descend following the same route back to base camp. About 10 hours.

19

Day 19 : Base Camp to Chhukung (4,730m).

From Basecamp we start our trek to Chhukung. Stay overnight at the lodge.

6 hours of walking.

20

Day 20 : Chhukung to Tengboche (3,860m).

After breakfast, we walking slowly down to the Tengboche including views of Mt Everest, Mt Amadablam Mt, Lhot tse and many more snow peaks. Stay overnight at lodge.

6 hours the walking.

21

Day 21 : Tengboche-Namche (3440m)

Today our trek to Namche but our lunch will be at the Snasa then after lunch trek to Namche Bazar. Stay overnight at the lodge in Lukla.

5 hours the walking.

22

Day 22 : Namche-Lukla (2,800m).

We walking 7/8 hours the last day on your trip. Stay overnight at the lodge.

23

Day 23 : Lukla-Kathmandu.

Today fly back to Kathmandu and trnsfer to the hotel.

24

Day 24 : Kathmandu.

Free day at Kathmandu today hotel includines with bed and bearkfast.

25

Day 25 : Departure.

After breakfast drive to the Kathmandu airport for yours cheduled flight back to home.
Cost Includes
Arrival and departure Transport Car/ Van/ Hiace.
Hotel in Kathmandu with breakfast as per our itinerary.
Full board meals Lunch-dinner Such as Nepali, Indian. Chinese and Italian, much more European food. with tea or coffee during the trek.
Tented accommodation during the trek.
The license holder, Climbing Guide, his Insurance, Equipment, day Salary, Food, and Accommodation.
The required number of Porters, Including Salary, Insurance, Food, Accommodation, and Equipment.
Everest National Park permits.
Mera and Island Peak Climbing Permit fee.
Garbage deposit Fee.
General Climbing equipment such as fix Rope, Ice Screw, Snow Bar etc.
Kathmandu - Lukla – Kathmandu Plane ticket.
High and medical Insurance.
Cost Excludes
Lunch and Dinner in Kathmandu.
Your Travel Insurance Policy encase if the accident and high altitude Sickness Rescue operation.
Nepal entry visa fee 15 Daya 25 US$ and for the 30 Days 40 US$, But you can obtain your visa in Kathmandu airport if you have not taken from your country.
Tips for trekking staff.
Your personal equipment such as Sleeping.Bag / Crampons / Harness ice ax, and ice hammer.
Please don't forget to bring with you 2 passport of size pictures.
Sleeping bag rental and down Jacket if needed.
All the meals are included on the trek but we only include breakfast while you are in Kathmandu.
Reviews
Mera Peak and Island peak 2018 October
France
Bonjour, je souhaitais faire les Mera et Island peaks. Je me suis...
Read More
Notes : Payment should be made 35 % of total amount in advance. Full amount must be paid before start your trip. Cancellation should be made 48 hours before departure and 25% cancellation charge is applicable beside Tax, transportation, permits and others fixed expensive. In case of incomplete Trekking / Tour / Rafting / Climbing / Jungles safari / or others days due to the client own problem the amount of money paid not refundable. If clients want to do Trekking / Tour / Rafting / Climbing / Jungles safari / or others tours more than itinerary, they can pay after back from tour with per day basic but should be permission with our Guide.