Tsum Valley Trekking - 16 Nights 17 Days
Duration: 16 Nights 17 Days
Trekking Route: Arkhet-Jagat-Chhekem-Nile/Ripchet-Tatopani-Arkhet
Best Time: Sep to Nov and March to May
Transport: Bus
Minimum Pax: 2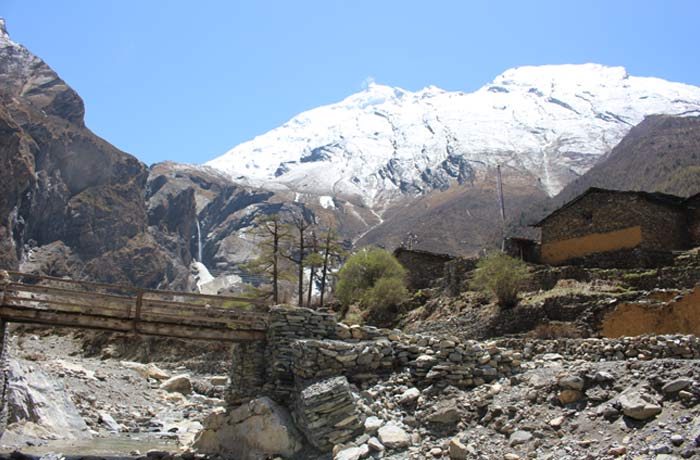 Tsum valley trekking is the new famous trekking in Tsum Manaslu region, with spectacular beauty Himalayans views and Tibetan follow cultural trek behind the mountain Ganesh Himal, Seringi and Mansulu peaks.
Tsum valley trekking trails are among the remote routes where is n't any connection of rood for the transportation to the Tsum valley areas. Tsum valley is the civilization with a lot of Buddhist people a long time ago they are entering in Manasulu circuit region from Tibet-China.
Tsum valley region areas are more Buddhism monasteries, Churten and many walls around the valley and in villages, the trek has been lately released upward and unexplored in contrasting with other trekking routes of Nepal. The trek is abundant in Tibetan cultural, exceptionally beautiful villages and spectacular mountain scenery to explore both restricted areas where we need special trekking permit from Immigration office Nepal.
Tsum valley trekking is an extremely rich cultural valley with the great Buddhism Yogi Chyuchin Milarepa and narrative about guru Padmasambhava accumulation.
For the Tsum valley trekking, we listed in our site, 1180U$$ per person in this cost we do include Experience trekking guide, porters, Breakfast, Lunch, dinner, Lodge accommodation necessary local bus transportation, Manasulu park fee, hotel in Kathmandu as per our itinerary also we do include special trekking permit. We highly recommended from September to November and March to May is the very best time to do this trek.
17 days package trekking Tsum valley trek begin from Sotikhola, Jagot, Chhekem. Nile, Chhekempar, and Ripchet. This trek you can start from Arughat also possible but between Arughat and Sotikhola is too much darts because of the new rode. If you want to do this trek with us please don't hesitate to do enquires with us we will reply to your question within one hour from our part. Thank you very much for your interested to do Tsum valley trekking in Nepal one day.
1

Day 1 : Arrival Kathmandu (1,300m).

Arrival Kathmandu airport and transfer to the hotel.

2

Day 2 : Kathmandu.

Kathmandu hotel includes breakfast. We need your original passport including Nepali Visa to prepare for the Restricted Special Trekking permit, After preparing your permit Nepal Alsace trek will brief for your Trekking details.

3

Day 3 : (730m) Sutikhola 7/8 hours bus from Kathmandu.

After breakfast from Kathmandu bus to Sutikhola. Stay overnight at lodge.

4

Day 4 : (900) Machhe Khol- 6 hours walking.

From Sutikhola trek to Machhe Khola. Stay overnight a lodge.

5

Day 5 : (1,300m.Jagat) 6 hours walking.

Machhe Khola trek to Jagat. Stay overnight at lodge.

6

Day 6 : (2,240m) Lokpa) 6 hours walking.

Jagat- Lokpa. Stay overnight at lodge (your Special trekking permit verifies here.

7

Day 7 : (3,100m Chhekem) 6 hours walking.

We cross the suspension bridge onto the opposite bank. Enjoy the great views of Ganesh Himal. Walk past Rainjam to Serpe Khola and crossing another bridge we arrive at the Gho Village. Another continues 2 hours climb to Tsum takes us to the village of Chhokangpar. If the weather permits to us then you can enjoy the views of Himalchuli (7,893) meters and Ganesh Himal (7,140m). Stay overnight at lodge.

8

Day 8 : (3,561m Nile) 6 hours walking.

Chhekang-Nile. Stay overnight at Lodge.

9

Day 9 : About 5/6 hours walking from Chhekampar.

We climbing above Chokhangpar, better to be careful of altitude problems. Walk past Lamagaon crossing rope suspension bridge to the Rachen Gompa, which is also well known as Nunnery Gompa too. We make a small visit and then we cross the Shiar Khola. Continue walking through the well-managed villages Lar (micro the hydropower), Phurbe and Pangdun. Leaving old historic Stupa of Buddha in a way crossing the village of Chhule, climb upstream and cross the bridge to finally arrive at the Nile. If you consider we can make your visit to a famous monastery of Chhule which is located in the top of the area. Stay overnight at lodge.

10

Day 10 : (4,030m Burjyo) 4 hours walking from Nile.

From the Nile back on the east bank of the Shiar Khola. Finally, we arrive at Burgi village. The Burgi village is a small and beautiful village. Climb up to the Milarepa's Cave Milarepa Cave Piren Phu) is known for its mesmerizing glimpses of Poshyop Glacier, Kipu Himal, and Chuke Himal. Stay overnight at lodge.

11

Day 11 : (2,470m Ripchet) 6 hours walkingfrom Nille.

From the Burjyo trek to the Ripchet. Stay overnight at lodge.

12

Day 12 : (1,400m) Ghattekhola) 6 hours walking Ropchet.

From Ripchet way back to Ghatte Khola. Stay overnight at lodge. your Special trekking permit is ending now.

13

Day 13 : 6/7 hours walking from Ghatte Khola.

Ghate Khola Trek to Tatopani. Stay overnight at lodge.

14

Day 14 : 7 hours walking Tatopani.

From Tatopani Trek to Arkhet. Stay overnight at lodge

15

Day 15 : 8 hours bus.

After breakfast bus to Kathmandu and transfer to hotel.

16

Day 16 : Free day at Kathmandu.

Free day at Kathmandu hotel include with bed and breakfast.

17

Day 17 : Departure from Kathmandu.

After breakfast transfer to Kathmandu airport for your scheduled flight back to the home.
Cost Includes
Arrival and departure transport service in Kathmandu.
Hotel in Kathmandu with bed and breakfast as per itinerary.
A day three times meals-Breakfast, Lunch and Dinner during the trek.
English- speaking –Government licensed holder trekking guide.
Over the 6 Pax group, we will provide you experience mountain Leader, who have best trained Hotel Management (NATHM) Mountain Leader Course, Component 1-2, Navigation Course, Rock climbing Course, Mountain rescue Training and Basic Mountaineering training etc.
Company paper working and Government taxes etc.
Basic lodge accommodation on trek
All transport as listed on our itinerary by bus and Local Taxi.
Manaslu park fees
Tsum valley especial trekking permit.
Porter to carry your bag 2 Member one porter.
Cost Excludes
Lunch and dinner in Kathmandu.
Personal equipment for Trekking.
Your Travels insurance Policy encase accident and high Altitude sickness.
Personal expenses.
Tips for Nepali staffs.
Soft and hard drinks Such as: Beer, Coke,Fanta and Mineral water.
Kathmandu entrée visa fee 15 Days 25 US$ and for the 30 Days 40 US$, you can obtain your visa in Kathmandu airport if you have not taken fro your country.
Please bring 2 passport size pictures.
Notes : Payment should be made 35 % of total amount in advance. Full amount must be paid before start your trip. Cancellation should be made 48 hours before departure and 25% cancellation charge is applicable beside Tax, transportation, permits and others fixed expensive. In case of incomplete Trekking / Tour / Rafting / Climbing / Jungles safari / or others days due to the client own problem the amount of money paid not refundable. If clients want to do Trekking / Tour / Rafting / Climbing / Jungles safari / or others tours more than itinerary, they can pay after back from tour with per day basic but should be permission with our Guide.