Tsum Valley Trekking - 16 Nights 17 Days
Duration: 16 Nights 17 Days
Trekking Route: Arkhet-Jagat-Chhekem-Nile/Ripchet-Tatopani-Arkhet
Best Time: Sep to Nov and March to May
Transport: Bus
Minimum Pax: 2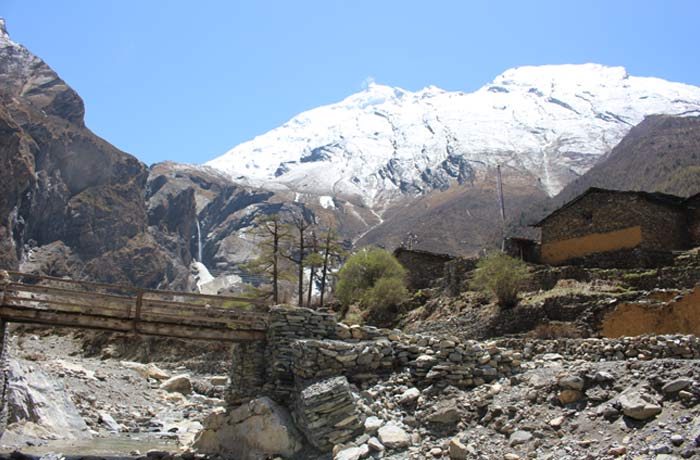 Trip Overview
Tsum Valley Trekking in Nepal a beautiful and discovers holy day trekking in Nepal. Tsum valley trekking is the world remotes Himalayan valleys, which were restricted region. Tsum valley trekking takes you into the majestic of the Ganesh Himal, Sarangi Himal, and Boudha Himal range. The Tsum valley trekking being part of Tibet looks completely different from what there will find elsewhere, People of Tsum valley named Tsumbas belong to Tibet origin with there own ancient from the dialect, art culture, and religion. Going to Tsum valley trek the itinerary seems to until Jagat. Tsum valley trekking is remote of the borderland of the high Himalayan part and several valleys are said to be Beyul 's hidden or secret valleys that are only open to those a very pure mind heard. According to ancient scriptures, they were established by Guru Rinpoche, The Tsum valley region still less exposed in comparison to other touristy areas with virgin and less comparison to the more popular area. In this Tsum valley area, people have their own way of family life, which may be quite surprising for many of outsiders. All the brothers in the family are married to a single girl, what you may call a practice of polyandry.  Tsum valley trekking stars ending point of Sutikhola and 7 hours drive from Kathmandu. From next day you are bilging to walking flowing the  Budhi Gandaki valley on a good path through a mix of dense forest, terraced fields, and hill and villages. As we leave the main trail of the Manaslu Circuit trekking and  Tsum valley, suddenly we get a feeling of entering truly into the hidden valley. While on the trek we pass through the alpine forest and river and you enjoy the warm hospitality of ethnic people. After your trek you may come back seems route to Suti Khola and drive back to Kathmandu Via Dhading to Kathmandu.
Detailed Itinerary
1

Day 1 : Arrival Kathmandu (1,300m).

Arrival Kathmandu airport and transfer to the hotel.

2

Day 2 : Kathmandu.

Kathmandu hotel includes breakfast. We need your original passport including Nepali Visa to prepare for the Restricted Special Trekking permit, After preparing your permit Nepal Alsace trek will brief for your Trekking details.

3

Day 3 : (730m) Sutikhola 7/8 hours bus from Kathmandu.

After breakfast from Kathmandu bus to Sutikhola. Stay overnight at the lodge.

4

Day 4 : (900) Machhe Khol- 6 hours walking.

From Sutikhola trek to Machhe Khola. Stay overnight at the lodge.

5

Day 5 : (1,300m.Jagat) 6 hours walking.

Machhe Khola trek to Jagat. Stay overnight at the lodge.

6

Day 6 : (2,240m) Lokpa) 6 hours walking.

Jagat- Lokpa. Stay overnight at the lodge (your Special trekking permit verify here.

7

Day 7 : (3,100m Chhekem) 6 hours walking.

We cross the suspension bridge onto the opposite bank. Enjoy the great views of Ganesh Himal. Walk past Rainjam to Serpe Khola and crossing another bridge we arrive at the Gho Village. Another continues 2 hours climb to Tsum takes us to the village of Chhokangpar. If the weather permits to us then you can enjoy the views of Himalchuli (7,893) meters and Ganesh Himal (7,140m). Stay overnight at the lodge.

8

Day 8 : (3,561m Nile) 6 hours walking.

Chhekang-Nile. Stay overnight at the Lodge.

9

Day 9 : About 5/6 hours walking from Chhekampar.

We climbing above Chokhangpar, better to be careful of altitude problems. Walk past Lamagaon crossing rope suspension bridge to the Rachen Gompa, which is also well known as Nunnery Gompa too. We make a small visit and then we cross the Shiar Khola. Continue walking through the well-managed villages Lar (micro the hydropower), Phurbe and Pangdun. Leaving old historic Stupa of Buddha in a way crossing the village of Chhule, climb upstream and cross the bridge to finally arrive at the Nile. If you consider we can make your visit to a famous monastery of Chhule which is located in the top of the area. Stay overnight at lodge.

10

Day 10 : (4,030m Burjyo) 4 hours walking from Nile.

From the Nile back on the east bank of the Shiar Khola. Finally, we arrive at Burgi village. The Burgi village is a small and beautiful village. Climb up to the Milarepa's Cave Milarepa Cave Piren Phu) is known for its mesmerizing glimpses of Poshyop Glacier, Kipu Himal, and Chuke Himal. Stay overnight at the lodge.

11

Day 11 : (2,470m Ripchet) 6 hours walkingfrom Nille.

From the Burjyo trek to the Ripchet. Stay overnight at the lodge.

12

Day 12 : (1,400m) Ghattekhola) 6 hours walking Ropchet.

From Ripchet way back to Ghatte Khola. Stay overnight at the lodge. your Special trekking permit is end now.

13

Day 13 : 6/7 hours walking from Ghatte Khola.

Ghate Khola Trek to Tatopani. Stay overnight at the lodge.

14

Day 14 : 7 hours walking Tatopani.

From Tatopani Trek to Arkhet. Stay overnight at the lodge

15

Day 15 : 8 hours bus.

After breakfast bus to Kathmandu and transfer to hotel.

16

Day 16 : Free day at Kathmandu.

Free day at Kathmandu hotel include with bed and breakfast.

17

Day 17 : Departure from Kathmandu.

After breakfast transfer to Kathmandu airport for your scheduled flight back to home.
Cost Includes
4 Nights hotel in Kathmandu with bed and breakfast.
Basic lodge accommodation on trek
Meals -Breakfast, Lunch-dinner Such as Nepali, Indian. Chinese and Italian, much more European food, as per above program during the trekking with Tea or Coffee.
All transport as listed in our itinerary by bus and Local Taxi.
Manaslu park fees
Tsum valley especial trekking permit
Porter to carry your bag 2 Member one porter.
English speaking trekking guide
Cost Excludes
Lunch and dinner in Kathmandu.
Personal equipment for Trekking.
Your Travels insurance Policy encase accident and high Altitude sickness.
Personal expenses.
Tips for Nepali staffs.
Soft and hard drinks Such as: Beer, Coke,Fanta and Mineral water.
Kathmandu entrée visa fee 15 Days 25 US$ and for the 30 Days 40 US$, you can obtain your visa in Kathmandu airport if you have not taken fro your country.
Please bring 2 passport size pictures.
Notes : Payment should be made 35 % of total amount in advance. Full amount must be paid before start your trip. Cancellation should be made 48 hours before departure and 25% cancellation charge is applicable beside Tax, transportation, permits and others fixed expensive. In case of incomplete Trekking / Tour / Rafting / Climbing / Jungles safari / or others days due to the client own problem the amount of money paid not refundable. If clients want to do Trekking / Tour / Rafting / Climbing / Jungles safari / or others tours more than itinerary, they can pay after back from tour with per day basic but should be permission with our Guide.