Chulu west peak climb with Annapurna circuit trek - 18 Nights 19 Days
Duration: 18 Nights 19 Days
Trekking Route: Chame-Manang Base camp High Camp
Best Time: Sep to Nov and April to May
Transport: Bus & Plane
Minimum Pax: 2
Places Cover: Kathmandu-Beshishar-Manang-Chulu West Peak climbing Thorang la pass-Jomsom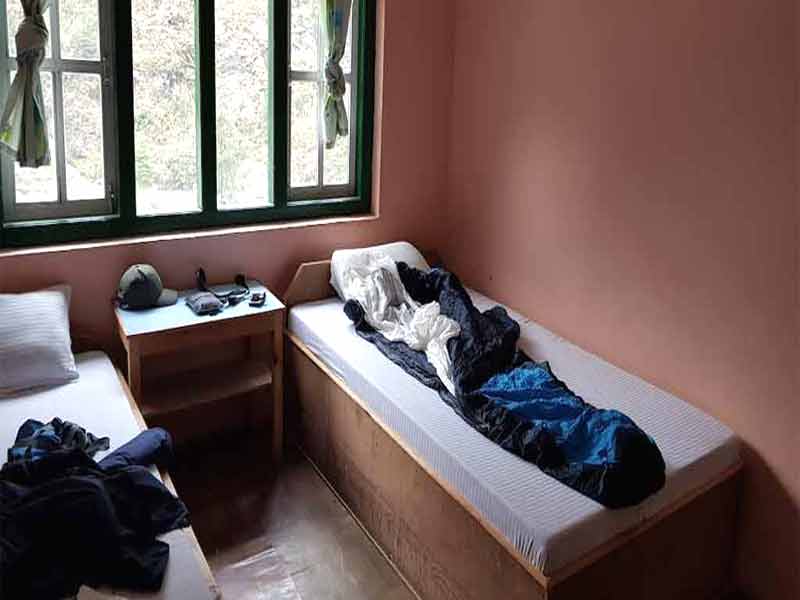 Chulu West Peak climb with Annapurna Circuit trek
If you are planning to combine the Chulu West Peak climbing with the Annapurna Circuit trek
Climbing Chulu West Peak requires technical mountaineering skills and experience. It is recommended to have prior mountaineering experience or be accompanied by a certified guide. Additionally, you may need to obtain additional permits or permissions specific to climbing Chulu West Peak, such as a climbing permit, depending on the regulations at the time of your climb. Climbing Chulu West Peak can be a challenging endeavor that requires mountaineering skills and experience. Here are some factors that contribute to the difficulty of climbing Chulu West Peak:
Chulu West Peak stands at an elevation of (6,419 Meters) (21,055 feet). As you ascend to higher altitudes, the air becomes thinner, and the body needs time to acclimatize. Altitude sickness is a potential risk, and climbers must be aware of the symptoms and have a proper acclimatization plan in place.
Climbing Chulu West Peak involves sections of steep and exposed terrain. It requires knowledge and experience in using mountaineering equipment, such as crampons, ice axes, ropes, and harnesses. Familiarity with techniques like rope management, glacier travel, and crevasse rescue is essential.
Peak climbing needs physical fitness: Climbing Chulu West Peak requires a good level of physical fitness. You will be trekking for several days and then engaging in technical climbing. Building endurance, strength, and cardiovascular fitness prior to the climb is crucial.
Weather conditions during Peak climbing: The weather in the Himalayas can be unpredictable, even during the climbing season. Climbers must be prepared for harsh weather conditions, including snowfall, high winds, and extreme cold. It is essential to have appropriate clothing, and gear, and be able to make informed decisions based on weather forecasts.
Climbing Chulu West Peak: Chulu West Peak climbing typically takes several days, including acclimatization and establishing high-altitude camps. Proper logistics, including food, equipment, and shelter, must be carefully planned to ensure a safe and successful climb. We highly recommend climbing Chulu West Peak with a certified and experienced guide or through a reputable trekking agency. They can provide guidance, and support, and ensure safety throughout the climb.
You need such kinds of training before climbing Peak: It is crucial to have mountaineering experience, undergo proper training, and be well-prepared physically and mentally. Assessing your own abilities and limitations and consulting with experienced mountaineers or guides are essential for a safe and successful Chulu West Peak climb.
After Peak Summit Trek Thorongla Pass to Muktinath: The trek from Thorong Pass to Muktinath is known for its stunning mountain views, diverse landscapes, and cultural experiences. It involves crossing the Thorong La Pass at an altitude of 5,416 meters (17,769 feet), so it is essential to be well-prepared, physically fit, and acclimatize properly. It is advisable to consult with experienced trekking guides or agencies for detailed information on the trekking route, accommodation options, and safety precautions.
The best time to undertake the Chulu West Peak Climbing with Thorong Pass is during the pre-monsoon (spring) and post-monsoon (autumn) seasons, similar to other treks and climbs in the Annapurna region. These seasons offer the most favorable weather conditions with clear skies, stable weather, and moderate temperatures.
What you need for Peak climbing in Nepal: It's crucial to plan this expedition with a reputable trekking agency or mountain guide service in Nepal. They will provide detailed itineraries, assist with permit applications, arrange necessary logistics, and ensure your safety throughout the journey. It's also essential to have proper travel insurance that covers mountaineering activities at high altitudes.
Trekking Permit for Trekking: Annapurna Conservation Area Permit (ACAP): This permit is required to enter the Annapurna Conservation Area, which includes Chulu East Peak and Tilicho Pass. Trekking Information Management System (TIMS) Card: The TIMS card is necessary for trekking in Nepal. It helps in maintaining a record of trekkers and provides vital information to ensure their safety and security.
If you plan to climb Chulu West Peak:  you will need a climbing permit issued by the Nepal Mountaineering Association (NMA). The NMA manages climbing permits for various peaks in Nepal. The cost of the climbing permit varies depending on the peak and the number of climbers in your group. It is recommended to contact the NMA a local trekking agency for detailed information on the current permit fees and application process.
Accomodaition is during the Trek: You will find a network of lodges and teahouses along the trail that provide accommodation and meals for trekkers. These lodges offer basic but comfortable lodging options, typically consisting of small rooms with twin beds or dormitory-style accommodations. The facilities vary from lodge to lodge, but you can expect shared bathrooms with basic amenities such as toilets and cold running water. Hot showers may be available for an additional fee in some lodges, but it's more common to have access to bucket showers with hot water.
Food items during the Trek: Regarding food, the teahouses and lodges along the Chulu West peak with Thorong la Pass usually have extensive menus offering a variety of meals to choose from. You can expect a mix of local Nepali dishes, as well as international options like pasta, pizza, fried
Drinking water during the Chulu West Peak climbing and Trek: Most teahouses along the Annapurna Regin Trek offer boiled water for a small fee. Boiling water for at least 3 minutes kills most bacteria and viruses. However, ensure that the water has been brought to a rolling boil and allowed to cool before drinking.
Batteries charging Service during the Trek: In most of the trekking regions, there is electricity whereby you will be able to charge your iPod and Camera batteries but they charge you extra money 100 to 400 Nepali rupees per hour.
Our Climbing Guide: It is most likely that you will need some assistance from your guide since he speaks fluent English and is well-educated. For the trek to the Annapurna region, we will provide all the necessary permits. We are looking forward to taking you on one of the most memorable journeys of your life. Transport
Flight and Land transport information about the Chulu West Peak and Thorong La Pass Land Transport Service You can travel by Local Jeep or by Local bus also available from KTM Chame and Jomsom to Pokhara, but we recommend taking a flight from Jomsom to Pokhara 25 Minutes flight.
Chulu West peak climbing cost  | We require a minimum of 2 pax group.
| Day | Destination | Altitude | Walking Hour | Accommodation |
| --- | --- | --- | --- | --- |
| 1 | Arrival Kathmandu and transfer to hotel | 1300 | one hour drive from airport to hotel | Hotel in Kathmandu |
| 2 | Day Free | 1300 | Free visit | Hotel in Kathmandu with B&B Service |
| 3 | Kathmandu to Besishar | 760 | 6-7-hours bus to Besishar from Kathmandu | Lodge |
| 4 | Besishar to Chame | 2710 | 4-5-hours by Local Jeep | Lodge |
| 5 | Chame to Pissang | 3100 | 4-hours | Lodge |
| 6 | Pisang to Manang via Gheru | 3440 | 7-8-hours | Lodge |
| 7 | Day Free | 3440 | 4-5-hours to Gangapurna glacier | Lodge |
| 8 | Manang to Lheder | 4200 | 5-6-hours | |
| 9 | Lheder to Chulu West Base camp | 4920 | 4-5-hours | Tent Camping |
| 10 | Base camp to high camp | 5170 | 3-4-hours | Tent Camping |
| 11 | Hifg camp to Camp- 2 | 5400 | 4-5-hours | Tent Camping |
| 12 | Summit to Chulu west peak | 6419 | 10-11-hours | Tent Camping |
| 13 | Base camp to Thorong Phedi | 4925 | 4-5-hours | Lodge |
| 14 | Phedi to Muktinath via 5416 Thorong la pass | 388-Muktinath | 6-7-hours | Lodge |
| 15 | Muktinath to Jomsom | 2700-Jomsom | 5-hours | Lodge |
| 16 | Jomsom to Pokhara | 900 | 25-Minut Flight to Pokhara from Jomsom | Hotel in Pokhara |
| 17 | Pokhara to Kathmandu | 1300-Kathmandu | 7-hours by bus | Hotel in Kathmandu |
| 18 | Day Free | 1300 | Free visit | Hotel in Kathmandu with B&B Service |
| 19 | Departure | Plane | By air plane to home | At your home |
Chulu West peak climbing cost 2,380 $ Per Person

Cost Includes
Arrival and departure transportation by car or bus
Four nights' accommodation in Kathmandu, including breakfast.
Including bed and breakfast for 1 night in Pokhara.
During the trek & expedition, we will be served Italian, Chinese, Indian, Nepali, and many more European foods (items) for breakfast, lunch, and dinner.
During your trips, you can stay at a teahouse lodge and a tented camp. It is possible for you to have a separate room.
License holder for climbing guides and porters.
Accommodation, Food, Salary, and Equipment for Climbing Guides.
Permit to visit Annapurna National Park.
Permit for climbing Chulu West Peak.
There is a fee for deposited garbage.
Medical and High Insurance for climbing Guide.
Climbing equipment such as ice screws, fix ropes, and snow bars.
Air ticket between Jomsom and Pokhara.
Local buses and Jeeps from Kathmandu Beshishar to Chame, and buses from Pokhara to Kathmandu.
Chulu West peak climbing Cost Excludes
A meal at a restaurant in Kathmandu and dinner at a restaurant in Pokhara.
In case of an accident or high altitude sickness, you will be covered by your travel insurance.
The Nepal entry visa fee is 30 US$ for 15 Days and 50 US$ for 30 Days, but you can get it at the Kathmandu airport if you haven't already taken it.
Beer, Coke, Fanta, and mineral water are all soft and hard drinks.
Trekking and climbing equipment for personal use.
Tips for Nepali employees.
You should bring equipment such as sleeping bags, crampons, seat harnesses, ice axes, and lock-unlock karabiners.
Be sure to bring 2 passport-sized photographs with you.
Altitude Chart