Dhaulagiri Pass and Thapa Peak climbing - 20 Nights 21 Days
Duration: 20 Nights 21 Days
Trekking Route: Beni-Dhaulagiri pass Thapa peak climbing-Jomsom Pokhara
Best Time: Sep to Nov and April and May
Transport: Bus & Plane
Minimum Pax: 2
Places Cover: Annapurna-Dhaulagiri-Thapa Peak climbing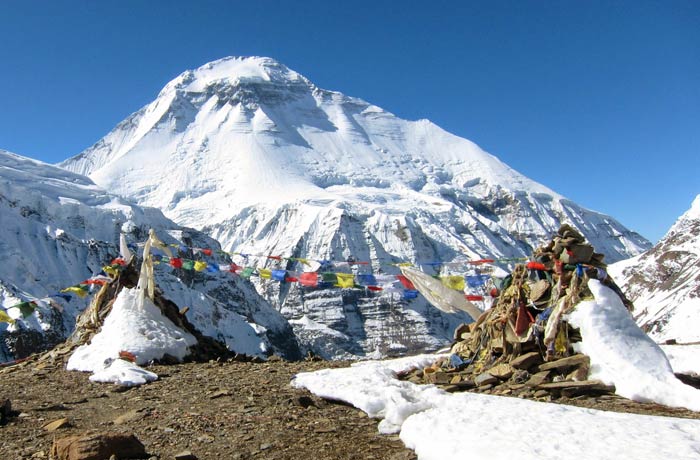 Dhaulagiri Pass and Thapa Peak climbing
 Dhaulagiri Pass and Thapa Peak climbing (6,012 meters) HERO Peak is an easy trekking peak and does not require any technical mountain types of equipment. However, Nepal's tourism department is solely responsible for issuing climbing permits. In Annapurna, the Dhaulagiri range is a famous Hero peak. The trek starts from Beni Muri after crossing the high Dhaulagiri pass (5,240 meters). About 5,200m above sea level, the trail is mostly glacier and snow crossing via French pass and Thapa peak base camp.
What you will see from Dhaulagiri Trek and Thapa Peak: You will have amazing and unforgettable Mountain views of Dhaulagiri (8,167m), Nilgiri (6940m), Sita Chuchura (6,611m), Tukuche Peak (6,920m) Thorong Peak (6.484m), Mukut Himal (6.639m), and Annapurna South (7,219m), It offers a spectacular view of the Upper Mustang and Annapurna ranges. In the case of travelers who have a limited amount of time in Nepal. Another option can be completed in nine days the trip can start from Jomsom and end in the Marpha short and less budget trip.
Less Technical Peak Climbing: Dhaulagiri Pass and Thapa Peak are comparatively easier and less technical than other peaks. Be sure to choose the Thapa peak in the Annapurna region if you are planning to climb a high pass trek with a peak climb. The two French passes were also covered in snow during the trip. Do you know which Annapurna region high passes are (5360m) and how you reach them? The peak is situated between Annapurna, Dhaulagiri, and Chharkabhote. The beautiful high pass trekking and climbing route of Thapa Peak rises on the northeastern flank of the Great Himalayan range. An adventurous trek and peak climbing in the Annapurna region includes Dhaulagiri and Thapa peak climbing.
What documents do we need for the Thapa Peak climbing permit?
01: Your original passport with 2 Photos.
02: Your travel insurance photocopy.
03:  Climbing Guide rescue insurance covalence ten thousand dollars.
04: Medical insurance 1, 00000 one Lakha Nepali rupees.
05: Climbing guide Guide accident insurance 15, 00000 Nepali rupees.
06: Garbage deposit of 500 USD Dollar.
Drinking water during the trek and climbing: It is better to use water purification drops and tablets which you can either bring from your country or buy in Kathmandu.
If you are first time to hike in altitude: Whatever your fitness level, as long as you can walk for 5-6 hours a day and trek-hike a few uphills, Nepal Alsace Trek & Expedition will help you to realize your dream of seeing the Dhaulagiri Circuit with Thapa Peak.
Food Items During the trekking and climbing: During the tea house lodge trekking and camping, you will find typical foods such as Noodles, Rice, Pasta, Potato dishes, fresh vegetables, eggs, and Chicken items same time for dinner and Lunch. Breakfast items Tibetan bread, Pancake, muesli, Porridge, and toast with peanut butter. Honey and jam.
Charging Baterise Service in Trekking area: The most of the trekking regions, there is electricity whereby you will be able to charge your iPod and Camera batteries but they charge you extra money 100 to 400 Nepali rupees per hour.
Accomodaition Service Trek and climbing: During trek & peak climbing you will sleep Lodge and in the tent. Our staff will provide Breakfast, Lunch, and dinner with Coffee and Tea.
Necessary Trekking Permits: You need a Peak climbing Permit from the Tourism Department and an Annapurna National permit.
Flight and Land Transport Service: You can hire a privet car from Kathmandu to Pokhara or you can fly KTM to Pokhara, From Pokhara to Muri, we must take a Local bus. From Jomsom, you must fly to Pokhara, but if you like to continue the trek to Ghorepani then you can get a Local bus to Tatopani.
DHAULAGIRI PASS & THAPA PEAK CLIMBING COST
When is the best time to do this project: We can do the Dhaulagiri round trek with Thapa peak climbing from September to November and April and May, If you wish to book your trip then please make a booking confirmation before the 2 months and forward please your flight details in Kathmandu arrival and departure date.
| Day | Destination | Altitude | Walking Hour | Accommodation |
| --- | --- | --- | --- | --- |
| 1 | Arrival Kathmandu and transfer to hotel | 1300 | One hour drive from airport to hotel | Hotel in Kathmandu |
| 2 | Day Free in Kathmandu | 1300 | Free visit | Hotel in Kathmandu with B&B Service |
| 3 | Kathmandu to Beni | 899 | By Public bus to Beni 11-12-hours | Lodge |
| 4 | Beni to Muri | 1840 | 3-hours bus and 2-hours walking | Lodge |
| 5 | Muri to Bagar | 2080 | 5-6-hours | Lodge |
| 6 | Bagar to Dovan | 2880 | 5-6-hours | Lodge |
| 7 | Dovan to Forest camp | 3110 | 5-6-hours | Lodge |
| 8 | Forest camp to Italian Base camp | 3700 | 5-6-hours | Tent Camping |
| 9 | Day acclimations at Italian Base camp | 3700 | Day Free | Teng camping |
| 10 | Italian Base camp to Swiss Base camp | 3790 | 3-4-hours | Tent Camping |
| 11 | Swiss Base cam to Dhaulagiri base camp | 4750 | 5-6-hours | Tent Camping |
| 12 | Dhaulagiri base camp to Hedden valley via French pass 5360 | 5150 -Hedden valley | 5-6-hours | Tent Camping |
| 13 | Hidden valley to Elevation camp via Thapa pass 5244 | Elevation (5090 | 5-6-hours | Tent camping |
| 14 | Day Extra | 5090 | Day Extra if weather is bad | Tent Camping |
| 15 | Summit to Thapa peak | 6012 | 8-9-hours | Tent Camping |
| 16 | Elevation camp to Alubari | 3680 | 5-6-hours | Tent camping |
| 17 | Alubari to Jomsom | 2700 | 4-5-hours | Lodge |
| 18 | Jomsom to Pokhara | 900 | 25-Minutes Flight to Pokhara | Hotel in Pokhara |
| 19 | Pokhara to Kathmandu | 1300 | 7-hours by bus | Hotel in Kathmandu |
| 20 | Day Free in Kathmandu | 1300 | Free walking | Hotel in Kathmandu with B&B Service |
| 21 | Departure Day | Flight out From Nepal | After breakfast drive to the international airport for your scheduled flight back to the home. | At the Your home |
Dhaulagiri Pass and Thapa Peak climbing cost 3,100 $ Per pperson

includes
Arrival and departure transportation by car, van, or Hiace
The hotel in Kathmandu includes breakfast for 4 nights.
2 Nights' stay with breakfast at a hotel in Pokhara.
Typical full-board meals include Nepalese and Indian food. There is a lot more European food than Chinese and Italian. While trekking, drink tea or coffee.
One climbing guide is a highly experienced, friendly, and helpful English speaker,
Kathmandu to Pokhara bus
Pokhara to Beni bus transfer.
Beni to Muri bus transfer bus.
Pokhara to Kathmandu Tourist bus.
For Nepali staff Jomsom to Kathmandu bus transport.
Porters and 1 Cook.
Sherpa climbers for the high pass and Thapa peak climbing
Helicopter and medical insurance 10,000 US$ for Nepali staff.
During the trip, we used a dining tent, two men's tents, a toilet tent, and kitchen equipment.
Porters, insurance coverage, food, equipment, and lodging.
Climbing equipment such as fixed ropes, ice screws, snow bars, and ice screws.
Permit to enter the Annapurna National Park.
Climbing permit for Thapa Peak.
Fees for trash deposits to the Department of tourism.
Plane ticket from Jomsom to Pokhara.
Trekking maps for Dhaulagiri pass and Thapa peak.
Dhaulagiri Pass and Thapa Peak climbing Cost Excludes
 Lunch and dinner in Pokhara and Kathmandu.
 In your travel insurance policy, you're covered for accidents and high altitude sickness.
 Nepal entry visa fee is 30 US$ for 15 days and 50 US$ for 30 days. However, if you have not received your visa from your country, you can obtain it at the Kathmandu airport.
 Beverages such as beer, coke, Fanta, mineral water are soft and hard drinks.
 Tips for Nepali employees.
 The following items should be brought along: a sleeping bag, a crampon, a seat harness, an ice ax, and a lock-and-unlock karabiner.
 Make sure you bring four passport-size photographs with you.
Altitude Chart