Annapurna circuit trek - 15 Nights 16 Days
Duration: 15 Nights 16 Days
Trekking Route: Chame Manang Thorang la Jomsom Ghorepani Nayanpul Pokhara
Best Time: October Nov And Feb to May
Transport: Jeep & Bus
Minimum Pax: 2
Places Cover: Kathmandu - Beshishar - Manang - Thorang la pass - Jomsom - Ghorepani - Pokhara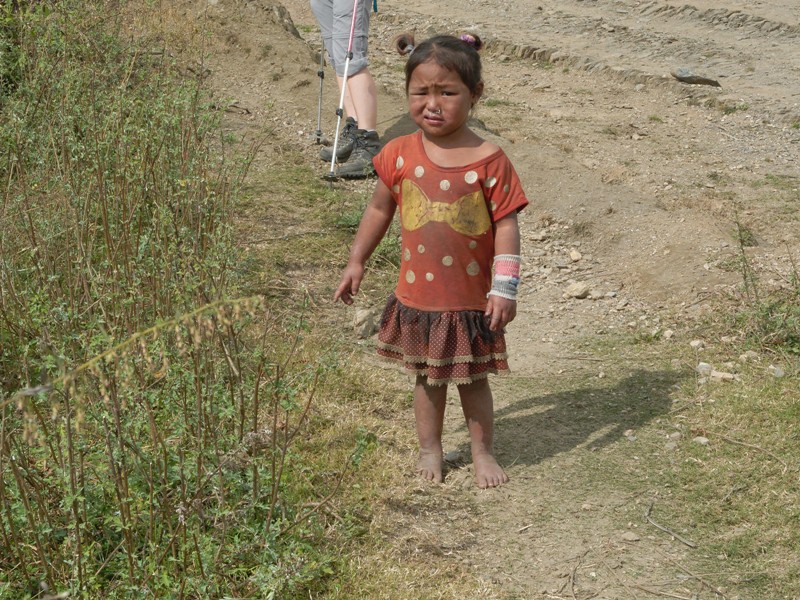 Annapurna circuit trek is one of the popular crowded trekking in Annapurna region 15/16 days trekking with Thorang la pass (5416m high altitude pass north part of Nepal. Finally in this trekking route amazing and very close view of Annapurna Himalaya including Tibetan cultural, topical green forest, River, cave, Hindu and Buddhist temples and big villages of the Manag and another place.
Annapurna circuit trek high pass name is Thorang la pass between Manang and Mustang drastic un-great historical Gurung and Thakali cultural and ethnic group.  Annapurna circuit trek offers us best view of Annapurna two, three, four, Gangapurna, Pisang peak Chulu East, West. Tilicho peak and Manaslu Himal, After 5416 meters Thorang la pass we enter the Mustang valley, which is the over eight thousand high meter mountains  Dhaulagiri one, two, three, Touckche peak and other white Himalayan peaks in between Muktinath and Jomsom. While passing Annapurna  Thorang la pass and Jomsom we heading toward to Thakali and Poon villages, which offer a good view for trekkers including  Annapurna south, Machhapuchhare and other Himalayans' peaks. for Annapurna circuit trek, if some people have a short holiday for Nepal then you can fly back from Jomsom to Pokhara. Annapurna circuit trek is another point if you have 16/17 days holidays then, of course, another 3100m view Ghorepani poon hill which is the very wonderful view of the Annapurna Himalayan range.
Annapurna circuit trek starts Chame and trek to Manag, via Thorang la pass, Muktinath, Marpha, Tatopani and Ghorepani. Our agency will provide you experience trekking guide porters and who know the Annapurna mountain history with map and compos riding staff. We highly recommended this trek September to November and March to May is the best time for this Annapurna circuit trek. Another option is that if you have more holiday for Nepal then way not to go Annapurna base camp it is very best and famous short trek including a very nice view of the Annapurna view with Gurung cultural.
We lited cost in our site 1195 US$ per person minimum of the 2 people in the group if only one single person then the cost will be 250 more extra costs for this trek.
Cost includes:
Arrival, departure transport, Kathmandu Besishar, Chame, Pokhara Kathmandu transport, breakfast, lunch. dinner, necessary trekking permit, Guide and porter salary insurance during the trek. Also, we included a hotel in Kathmandu with breakfast service as per our itinerary.
Sorry: we don't include in our price list, Nepal visa fee, personal equipment, Plane ticket Pokhara-Kathmandu, Lunch, dinner in Kathmandu, your international air ticket and travels insurance.
If you want to hire only guide and porter also available from our agency.
1

Day 1 : Arrival Kathmandu (1,300m).

Arrival Kathmandu airport and transfer to the hotel.

2

Day 2 : Kathmandu-Besishar -Chame

02: Early morning by bus to Besishar 5 hours then by Local Jeep to Chame about 4 hours (2715m) Stay overnight at lodge.

3

Day 3 : Chame-Pisang

Trekking start to Pisang (3100m) 5 hours walking. Stay overnight at lodge.

4

Day 4 : Pisang-Manag

Our trek to Manang (3341m) 4 hours walking. Stay overnight at lodge.

5

Day 5 : Manang

Rest day at Manang for acclimatization. Stay overnight at lodge.

6

Day 6 : Manag-Letter

Trek Letter (3720m) 4 hours walking. Stay overnight at lodge.

7

Day 7 : Manag-Thorang la Phedi

Our trek to Thorang la Phedi (3900m) 3 hours walking. Stay overnight at lodge.

8

Day 8 : Phedi-Muktinath

Early the morning climb up to Thorang la pass (5416m) and back down to Muktinath (3900m) 7 hours walking. Stay overnight at lodge.

9

Day 9 : Muktinath-Marpha

Trek to Marpha (2700m) hours walking. Stay overnight at lodge.

10

Day 10 : Marpha-Tatopani

From Marpha 4 hours drive to Tatopani (1150m). Stay overnight at lodge.

11

Day 11 : Tato Pani- Ghotrepani

Trek to Ghorepani (2900m) 6 hours walking. Stay overnight at lodge.

12

Day 12 : Ghore pani poon hill and Tekhedhunga

Early morning climb up to Poonhil for the sunrise views of Annapurna range and Dhaulagiri. Also known as a photographer's paradise, we can spend some time here then we go down to Ghorepani, after our breakfast we walking 3 hours down to Tekhedhunga. Stay overnight at the lodge.

13

Day 13 : Tekhedunga-Pokhara

3 hours walking to Berethanti and 2 hours drive to Pokhara. Overnight at Hotel.

14

Day 14 : Pokhara-Kathmandu

By tourist bus to Kathmandu 7 hours and trnsfer to hotel.

15

Day 15 : Kathmandu

Your safety day includes hotel bed and breakfast.

16

Day 16 : KathmanduDeparture

After breakfast drive to the international airport for your scheduled flight back to the home.
Cost Includes
Arrival and departure transport service in Kathmandu.
Hotel in Kathmandu with bed and breakfast as per itinerary.
Local bus and local jeep Kathmandu Besishar-Chame,
One night hotel in Pokhara at Lakeside with breakfast.
Annapurna Conservation park permit and Tims card.
A day three times meals-Breakfast, Lunch and Dinner during the trek.
Lodge accommodation during the trek.
Tourist bus ticket Pokhara Kathmandu.
English- speaking –Government licensed holder trekking guide.
Over the 6 Pax group, we will provide you experience mountain Leader, who have best trained Hotel Management (NATHM) Mountain Leader Course, Component 1-2, Navigation Course, Rock climbing Course, Mountain rescue Training and Basic Mountaineering training etc.
Necessary porters-Insurance, Salary and they are accommodation during the trek.
Company paper working and Government taxes etc.
Cost Excludes
Lunch and dinner in Pokhara and Kathmandu.
Your travel insurance Policy encases if the accident and high Attitude sickness, Rescue and medication.
Your trekking Equipment.
Nepal entry visa fee 15 Days 25 US$ and for the 30 Days 40 US$. But you can obtain your visa in Kathmandu airport if you have not taken from your country.
Tips for Guide and Porter.
Please bring with you 2 Passport size of the photo with you.
Soft and hard drinks such as Coke, beer, Mineral water.
Notes : Payment should be made 35 % of total amount in advance. Full amount must be paid before start your trip. Cancellation should be made 48 hours before departure and 25% cancellation charge is applicable beside Tax, transportation, permits and others fixed expensive. In case of incomplete Trekking / Tour / Rafting / Climbing / Jungles safari / or others days due to the client own problem the amount of money paid not refundable. If clients want to do Trekking / Tour / Rafting / Climbing / Jungles safari / or others tours more than itinerary, they can pay after back from tour with per day basic but should be permission with our Guide.