Ganja La pass trek -
Trekking Route: Syabru/Langtang Kangjin/Ganjala pass Tarkeghayng Thimpu Kathmandu
Best Time: Sep October Nov and April May
Transport: Bus
Minimum Pax: 2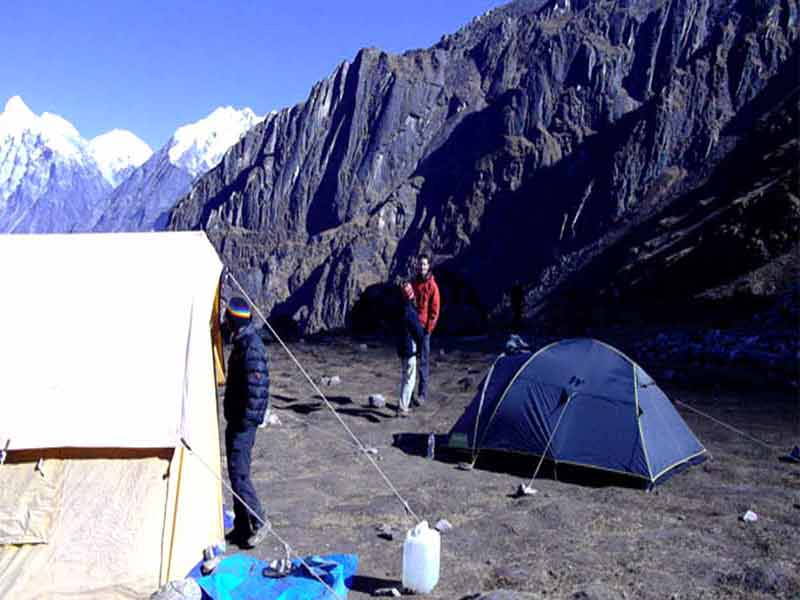 Ganjala passes trek
The Ganja La Pass trek is considered a challenging trek in Nepal. It requires a good level of physical fitness, previous trekking experience, and the ability to handle high altitudes. Here are some factors that contribute to the difficulty of the Ganja La Pass trek:
Langtang and Kyangjin Gompa: Kyanjin Gompa, located at an altitude of (3,870 Meters) (12,697 feet), is a picturesque village in the Langtang Valley. It serves as a popular rest and acclimatization point during the Langtang Valley trek. Here are some of the highlights and attractions you can experience from Kyanjin Gompa:
View from Langtang Kyangjin: The majestic Langtang Lirung (7,227 Meters) Naya Kang Ganjala Chuli, Langshisa Ri, Kang Chambo, and Morimoto Peak. dominates the skyline from Kyanjin Gompa. It is the highest peak in the Langtang range and offers a stunning backdrop for the village. The sight of this snow-covered peak is truly awe-inspiring.
Kyanjin Ri is (4,773 Meters/15,659 feet) is a popular viewpoint near Kyanjin Gompa. It offers panoramic views of the Langtang mountain range, including Langtang Lirung, Langtang II, Langshisa Ri, and other surrounding peaks. The climb to Kyanjin Ri is steep but rewarding, providing breathtaking vistas of the Himalayas.
Tserko Ri Climbing:  Tserko Ri (4,984 meters/16,349 feet) is another nearby viewpoint that offers stunning views of the surrounding mountains and glaciers. From the top, you can witness the Langtang Himalayan range, and the Langtang Valley, and even catch a glimpse of peaks like Ganesh Himal and Dorje Lakpa.
Cheese Factory: Kyanjin Gompa is famous for its cheese production. You can visit the local cheese factory, where yak cheese is made. The factory offers an opportunity to observe the cheese-making process and taste fresh, organic cheese, a specialty of the region.
Corrosing high Pass Ganjala: The Ganja La Pass sits at an elevation of (5,130 Meters) (16,830 feet), which means you will be trekking at high altitudes. Altitude sickness is a potential risk, and acclimatization is crucial. It is recommended to take rest days and ascend gradually to allow your body to adjust to the increasing altitude.
The trail is rocky and icy to corrosion Ganjala Pass: The ascent and descent of the Ganja La Pass involve crossing a steep and challenging section that requires basic mountaineering skills. The trail is rocky, and icy, and may require the use of ropes and crampons. It is advisable to have prior experience in using mountaineering equipment or hire an experienced guide for safety.
Weather conditions in the Ganja La Pass: It can be unpredictable and harsh. Snowfall, strong winds, and extremely cold temperatures are common, particularly during the winter months. It is essential to be prepared for varying weather conditions and have appropriate clothing and gear.
Ganjala Pass to Helambu: Tarkeghyang is a village located in the Helambu region of Nepal. It is a popular stop on the trekking route that covers the Langtang Valley with Ganja La Pass and continues into the Helambu region. Here's what you can expect to experience in Tarkeghyang and the Helambu area:
What are in Helambu: The Helambu region is inhabited by the Hyolmo people, who have unique cultures and traditions. Tarkeghyang provides an opportunity to immerse yourself in the local culture, interact with friendly locals, and witness their traditional lifestyle. You can visit monasteries, and gompas (Buddhist temples), and experience local festivals if your timing aligns with any celebrations.
Hyolmo cuisine, also known as Helambu cuisine, offers a chance to savor traditional local dishes. Try authentic Hyolmo delicacies such as Thukpa (noodle soup), Chhyang (millet beer), Gundruk (fermented leafy greens), and sel roti (a sweet rice flour bread).
The duration of the Ganjala Pass Trek is typically around 14- days, including arrival and departure days. This provides ample time for acclimatization, exploring the passes, and reaching Everest Base Camp.
We Nepal Alsace Trekking reputable Agency It's advisable to choose a reputable trekking agency with experienced guides, good reviews, and clear communication to ensure a safe and enjoyable trekking experience.
Necessary Trekking Permits: To trek in the Langtang region, you will need two permits: the Langtang National Park entry permit and the TIMS card.
The best time for this trek is during the pre-monsoon (spring) season (March to May) and post-monsoon (autumn) season (September to November) when the weather is generally stable and offers clear mountain views. However, it's important to check weather conditions and be prepared for changes in high-altitude environments.
Accommodation along the trekking route in Langtang Helambu: is available in teahouses or lodges. These provide basic facilities such as a bed, blanket, and meals. The availability of amenities can vary, but most teahouses offer hot meals, showers (for a fee), and charging facilities for electronic devices. But you must sleep 3 nights in the tent because Ganjala passe 3 days are no Tea House Lodge.
Toilet and Bathroom Service during the Trek: In the Langtang region, shared toilet facilities are more common than en-suite bathrooms. They may be located in the main building or in an outhouse.
Drinking water during the Trek: You can take boiled water from the lodge which costs 100 -400 Nepali rupees. It is better to use water purification drops and tablets which you can either bring from your country or can buy in Kathmandu.
Food Items during the Trek: During the tea house lodge trekking, you will find typical foods such as Noodles, Rice, Pasta, Potato dishes, fresh vegetables, eggs, and Chicken items for dinner and Lunch. Breakfast items Tibetan bread, Pancake, muesli, Porridge, and toast with peanut butter. Honey and jam.
Charging Batterise Service: In most of the trekking regions, there is electricity whereby you will be able to charge your iPod and Camera batteries but they charge you extra money 100 to 400 Nepali rupees per hour.
Ganjala pass trek cost | We require a minimum of 2 pax groups.
| Day | Destination | Altitude | Walking Hour | Accommodation |
| --- | --- | --- | --- | --- |
| 1 | Arrival Kathmandu and transfer to hotel | 1300 | One hour drive from airport to hotel | Hotel in Kathmandu |
| 2 | Kathmandu to Syaprubensi | 1400 | 8-9-hours bus from Kathmandu | Lodge |
| 3 | Syapru to Lama hotel | 2430 | 5-hours | Lodge |
| 4 | Lama hotel to Mundo | 3340 | 5-hours | Lodge |
| 5 | Mundo to Kyangjin Gompa | 3710 | 2-hours | Lodge |
| 6 | Kyangjin to Trego Ri Climbing | 4900 | 6-hours | Lodge |
| 7 | Kyangjin to Ganja La base camp | 4200 | 3-hours from Kyangjin | Tent Camping |
| 8 | Ganja La pass (5130m) and Kalden Kharka | 3800 | 6-hours | Tent Camping |
| 9 | Kalden Kharka to Dhukpu Kharka | 3400 | 6-7-hours | Tent Camping |
| 10 | Dhukpu Kharka to Tarkrghyang | 2743 | 5-6-hours | Lodge |
| 11 | Tarkeghyang to Timpu | 800 | 3-hours | Lodge |
| 12 | Timpu to Kathmandu | 1300 | 5-hours bus to Kathmandu | Hotel in Kathmandu |
| 13 | Free day at Kathmandu | 1300 | Free Visit | Hotel in Kathmandu with breakfast |
| 14 | Departure | Once you have finished your breakfast, transfer to the Kathmandu airport | Flight out from Nepal | At your home |
Ganja la Pass trek cost 1360 $ Per Person

Cost Includes
Arrival and Departure Transport Car/Van/ Hiace.
Hotel in Kathmandu with bed and breakfast 3 Nights.
Breakfast, Lunch, and Dinner during Lodge and camping trek with Tea and coffee.
Lodge and Tented accommodation during the trek.
License holder Trekking Guide and porters. Including insurance, Food, Salary, and Accommodation.
Fix rope and ice crow.
Langtang National park fee and TIMS Card.
Bus Transport-Kathmandu-Shybrubensi-Thimpu-Kathmandu.
Ganja la Pass trek cost Excludes
Lunch and dinner in Kathmandu.
Your Travel Insurance Policy encase if the accident and high Altitude sickness Rescue operation.
Nepal entry visa fee 15 Days 30 US$ and for the 30 Days 50 US$, you obtain your visa in Kathmandu Kathmandu airport if you have not taken from your country.
Will require 1 passport size photos
Soft and hard drinks Such as Beer.Coke, Fanta and mineral waters.
Personal Trekking Equipment.
Tips for Trekking staffs.
Altitude Chart