Makalu Trekking - 20 Nights 21 days
Duration: 20 Nights 21 days
Best Time: October/Nov and March /April
Transport: Bus & Plane
Minimum Pax: 2
Places Cover: Kathmandu-Tumlingtar-Tashi Gaun-Makalu Base Camp-Tumlingtar-Kathmandu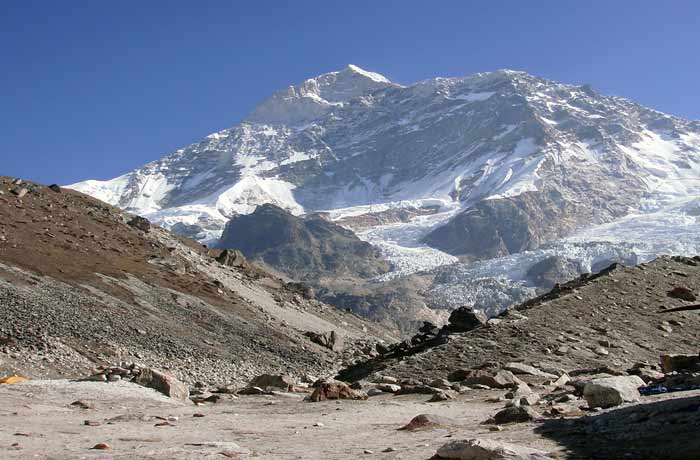 Trip Overview
Makalu trekking un a high altitude terrain, snow cold landscape and ethnic Himalayan lifestyle on a solitary trek to base camp Makalu which is the (5,250m)and designated as Makalu national park conservation area. Makalu Himal is a fifteen highest tallest mountain in the world. This trekking is real Adventure and beautiful trekking in Nepal. Makalu trekking itinerary can be 18 days to 23 days trekking From Makalu base camp you can continue to Sherpani col trek. Makalu trekking begins from Tumlingtar heading up to the Arun river valley of close the Makalu Himal. In this trekking region one of the most remote unforgettable adventure area of Nepal. The Makalu trekking is a magnificent valley denser rhododendron and Alpine forests. From the trek un amazing views of the Makalu.Kanchenjunga, Barunche Himal, of course, world high peak Mt. Everest (8848m). Especially this trekking is not difficult trekking it can be done from 15 years to 70 years old age no problem for this trek. In this trekking region people living Rai, Gurung, Brahmans, and Bhote. Makalu trekking is a holiday key of the preservation of the unique biological cultural treasures of the Makalu Barun areas. The Makalu Barun national park is established in 19192 as for Eighth national park in Nepal. Remote Makalu National park management by local community actively involved and protecting the forest and natural resources. Makalu conserving their own rich culture and heritage.  the region will require a level of physical fitness with regular exercising and comparatively long distant easy high pass trekking. On the way this trek you can see the more the 100 species birds, Red panda, Leopard, Monkeys, and Musk deer. for this trek we highly recommended and the best time is September to 15 December and March to end of May is the best time to do Makalu trekking. During the trekking, you can take a flight to Tumling tar or alternative way can take a bus from Kathmandu hele and Hele Tumling it is possible.
Detailed Itinerary
1

Day 1 : Arrival Kathmandu (1,300m).

Arrival Kathmandu and transfer to the hotel.

2

Day 2 : Kathmandu.

Free day at Kathmandu hotel includes with bed and breakfast.

You can be shopping necessary trekking equipment for your trek.

3

Day 3 : Kathmandu-Num (1,505m).

From Kathmandu 45 minute fly to Tumlingtar and taking a jeep to Num about 3 hours driving. Stay overnight at the lodge.

4

Day 4 : Num-Seduwa (1,530m),

We start hiking from Num(1,505.m) to Seduwa it takes almost 5/6 hours for trekkers and it is the 1st day of hiking but we still walk for 5 hours because the altitude is not that different so it is a long but easy hike and we will. Stay overnight at the lodge.

5

Day 5 : Seduwa-Tashi Gaun (2,065m).

From Seduwa we start hike for Tashi Gaun it is about 5/6 hours hike from Seduwa following from here trail gradually start to ascend where we walk through beautiful villages and greenery mountains. Stay overnight at the lodge.

6

Day 6 : Tashi Gaun-Kongma Danda (3,562m).

Hike from here is very pleasant following hiking trail to Kongma danda which takes almost 6 hours because we are going to highs. Stay overnight at the lodge.

7

Day 7 : Kongma Danda-Dobate (3,650m).

Our trek start to gain altitude because we are doing pass heading for the Dobate passing via Tutu-La, Ship ton-La (4,220,m) which is the 1st pass 5/6 hours walking. Stay overnight at the lodge.

8

Day 8 : Dobate-Yangle Kharka (3,610m).

Dobate to Yangle Kharka it takes 5/6 hours where the trial is gradually ascended and where you can feel refreshing where lots of cattle houses where Sheppard come with their cattle in the June to August. Stay overnight at the lodge.

9

Day 9 : Yangli Kharka –Jyak Kharka (4,510m).

From here we hike to another kharka called Langmale Kharka it takes 5 to 6 hours which is also another favorite destination for Sheppard and from where you can see little parts of Makalu but you can feel it's power. Stay overnight at the lodge.

10

Day 10 : Jyak-Kharka To Makalu Base Camp(4,810m).

It takes 5 to 6 hours hiking where you will be covered by Mountains the perfect mesmerizing views. Stay overnight at the lodge.

11

Day 11 : Rest day.

We will take the rest day here which Helps to overcome the altitude and we will hike for Glacier to make the body warm.

12

Day 12 : Hike to Makalu base camp area.

Today we hike to At Makalu high Camp. You will enjoy a spectacular view of different mountains and peaks like Mt. Makalu (8,463m), Baruntse (7,152 m), Kali Himal (6,985m), Chamlang (7,390m), Makalu II (7,640m), etc. You can also hike to Makalu Base camp valley. Stay overnight at lodge.

13

Day 13 : Makalu Base Camp –Tamatan Kharka (4,120m).

From Base Camp 8 hour walking to Tematan Kharka. Stay overnight at the lodge,

14

Day 14 : Timtan Kharka-Tashigaun.

From Timtan 8 hour walking to Tashi Gaun. Stay overnight at the lodge.

15

Day 15 : Tashigaun to Seduwa

From Tashi Gaun 6 hour walking to Seduwa. Stay overnight at lodge.

17

Day 17 : Seduwa to Num.

After breakfast. Our trek starts to go Seduwa about 5 hours walking. Stay overnight at the lodge.

18

Day 18 : Jeep to Tumlingtar.

Today we took a jeep to Tumlingtar, Your last day on your trip with porters. Stay overnight at the lodge.

19

Day 19 : Tumlingtar-Kathmandu.

From Tumlingtar flight back to Kathmandu and transfer to the hotel.

20

Day 20 : Kathmandu.

Today your free day hotel includes with bed and breakfast.

21

Day 21 : Departure.

After breakfast, drive to the Kathmandu airport for your scheduled flight back to home.
Cost Includes
Arrival and Departure Transport by car/ Van/ Hiace.
Hotel in Kathmandu with bed and breakfast.
Trekking permit TIMS Card and Makalu park permit.
Breakfast/ Eggs items, Toast, or Tibetan bread, Or pancake, or Chapati with honey, Jam, Butter or muesli, Cornflakes with hot milk.
LUNCH/ Nepali Dalbhat, Momo or other (Items).
Dinner/ (Soup items) Vege, or mushroom, or tomato, or Chicken, or noodles.
(Dinner) Spaghetti, Sandwich, Or Chips, Pizza, or Chow men, Macaroni or spring roll.
Lodge Accommodations of during the trek.
HOT DRINKS, Black tea with milk, Black Coffee with milk or hot chocolate.
English speaking guide & porters.
Kathmandu-Tumlingtar-Kathmandu Plane.
Cost Excludes
Lunch and Dinner in Kathmandu.
Personal equipment.
Your Travel Insurance Policy encase accident and high altitude sickness.
Tips for Trekking staff.
Nepal entry visa fee 15 Days 25 US$ and for the 30 Days 40 US$, you can obtain your visa in Kathmandu airport if you have not taken from your country.
Will require 2 passport size photos
Soft and hard drinks Such as: Beer,Coke, Fanta and Mineral water.
Notes : Payment should be made 35 % of total amount in advance. Full amount must be paid before start your trip. Cancellation should be made 48 hours before departure and 25% cancellation charge is applicable beside Tax, transportation, permits and others fixed expensive. In case of incomplete Trekking / Tour / Rafting / Climbing / Jungles safari / or others days due to the client own problem the amount of money paid not refundable. If clients want to do Trekking / Tour / Rafting / Climbing / Jungles safari / or others tours more than itinerary, they can pay after back from tour with per day basic but should be permission with our Guide.